Hey there,
Today ended up being a bit of a big day for the arcade machine.  I received some more parts, plus I did my first drilling!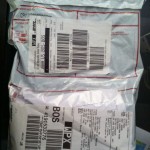 This is a package I received from Ultimarc.  This is going to have a couple of critical pieces for the machine.
The first thing I received is a pack of 10 buttons (which I later will find out isn't enough).  They are made by Happs Electronics and got great reviews.  I decided to get the red buttons for the old school arcade look.
I also got the I-PAC.  This is the keyboard interface that translates the button presses to the computer.  Each button and joystick gets wired into this, and then this plugs into the computer via USB.  This supports enough buttons for two players, although since my cabinet is so small my control panel will only need buttons for one player.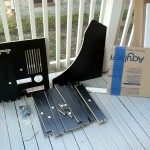 Next up is to start working on the cabinet.  Here is the cabinet as it arrived in the mail.  As you can see it's completely disassembled.  The thing on the right is the plexiglass to cover the monitor as well as the marquee.
It looks like I have my work cut out for me!!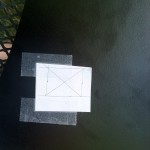 The first thing I wanted to do was to drill a button into each side panel.  This will allow me to play pinball games.  Since I know absolutely nothing about drilling you can see my method was rather 'basic.'  The good thing is that I learned from this and it helped me 'perfect' my craft.  (note: Adobe Illustrator is your friend when creating the control panel).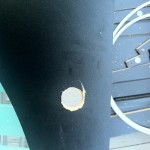 My first drill hole!  I used a 1 1/8″ drill bit which is kind of a monster.  You can see there's a big scratch on the side of the drill hole.  I'm not too worried about it because I am going to be sanding and painting this panel.
Aaaaand, the button fits perfectly!
Here's the second side panel drilled with the button attached.  I did a much better job this time with the drilling.
That's all for today.  Stuff is starting to come together 😉  And now I'm off to The Cape to hang out with my friend Michelle!
Thanks,
Robert.